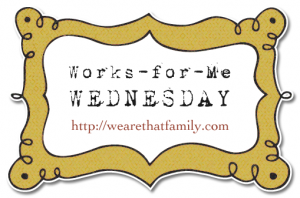 Good Wednesday to all in Blogdom! Is anybody out there tired like me?
Sheesh – it's the middle of the week and I'm still trying to climb into the saddle. You know, in western movies, when the greenhorn is hopping around with one foot in the stirrup, trying to get the horse to stop dancing and let him make it all the way up? That's me this week. HOP, HOP, HOP …
I've been trying to keep home-baked goodies on hand for snacks for my gang of impossible-to-satisfy guys. You know what I mean; boys are always hungry. And if I bake it, I can sneak healthier stuff in. Well, maybe not healthy, exactly, but a lot better than anything that comes wrapped in cellophane after sitting on a conveyor belt in a factory. (I hope.)
This week I thought I'd share one of my favorite recipes – chocolate chip granola bars. I originally saw this on the Living on a Dime site. I have made a few tweaks with a nod to healthier snacking.
Homemade Granola Bars
1 cup sugar
1/2 cup butter or margarine, softened
1/2 tsp. vanilla
1 egg white
1 cup white whole wheat flour
1 tsp. cinnamon
1/2 tsp. baking soda
1/4 tsp. salt
1 1/2 cups oatmeal
1 1/4 cups crushed Chex-type cereal
1/2 cup mini chocolate chips
In a large bowl, cream sugar and butter until fluffy. Add vanilla and egg. Mix well. Blend in flour, cinnamon, baking soda and salt. If batter is too thick, add a little water. (The whole wheat flour seems to need a bit more moisture.) Stir in remaining ingredients. Press firmly into the bottom of a greased 9×13 pan. (I use the plastic bags cereal comes in once the box is empty; just open all the seams and split down the middle for 2 non-stick "liners" which you can use to smoosh out the thick mixture into the corners of the pan. Bake at 350° for 20-25 minutes. Bars will firm as they stand. Cool and cut into bars. Save the crumbs for yogurt or ice cream topping. Makes 24 bars.
You can substitute regular chocolate chips for the minis. Or try adding cocunut, raisins, peanut butter, nuts, dried fruit, etc. in stead of chocolate chips. Also, instead of the cereal, try corn flakes, bran flakes, crushed rice krispies, crushed graham crackers, etc. Experiment to see what goes over the best at your table!
Linking up to Works For Me Wednesday!