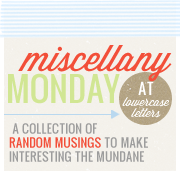 I wonder…can I make a Miscellany Monday post…in rhyme…off the top of my head…at nearly 10 o'clock in the evening? Let's see!
It's late and I have two three many loads of laundry to fold.
Can you believe just a few days ago we were all cold?
Today was so beautiful, with the thermometer a-climb,
That I sent the kids outside for a long, long time.
They came in muddy to the knees – thank you, Spring!
I'm so glad you're here; please don't change a thing.
Attended a baby shower for my cousin yesterday;
What fun! Reminded me how the days slip away.
It seems my boys were tiny just a short time ago.
Today the littlest one dropped a weight on his toe.
Fortunately, God has built him like a tank.
Lord – You are so good to me, I must THANK
YOU,
Father – for another week well begun.
Blessings to all of you – from the Home Front!
Okay – rather cheesy, I know. I really hate rhyming. Like, with a passion. How'd I do?
Linking up to Miscellany Monday at Lowercase Letters