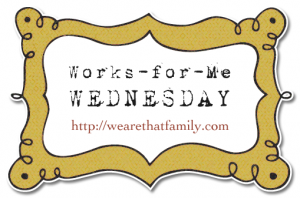 I have a little bag of … stuff … that goes everywhere with the kids and I, beginning as soon as it's warm enough for them to play outside in the spring.
I call it my portable pharmacy. Perhaps I should rethink the name, however. I can hear the whispers in the back: "I already have a first aid kit in the car!"
Do not be deceived, my dears. This little bag contains sooo much more than just medicine.
1. two fruit bars in a plastic baggie
First and foremost, when traveling with boys, you must pack FOOD. We will inevitably get stranded somewhere far from other sustenance with at least one ravenous wolf boy, and having something to feed it him will be invaluable. Keeping them in the baggie helps prevent crushing to some degree, and also gives me another baggie which can be pressed into service in many ways (see #2). Actually, I may stick some more snacks in, if I can find the room. You can never have too many snacks.
2. at least one large (gallon-sized or bigger) plastic bag with zip-top
I love zip-top bags. Great for preventing spilled liquids from ruining your bag – storing wet clothes after accidents involving water bottles or just … accidents (you know what I mean!) -- especially nice as an impromptu barf bag.
3. a couple small notepads and pens
Fantastic for entertaining kids. But remember – no crayons! Colored pencils are okay, if you have room for them.
4. disposable baby-changing pad
Okay—this is a newer addition. I don't actually have any kiddos in diapers anymore, but this one was leftover. Why not throw it in? It could be a clean table covering for an impromptu picnic. You could … use it for shade if you got stranded in the desert. I know—I'm reaching. But it just seems like one of the those times that I'd end up smacking myself in the head and saying, "If only I had put that disposable baby-changing pad in the portable pharmacy!" if I left it out. Better safe than sorry, right?
5. some drinking straws
Also a newer addition. I often carry a couple water bottles with us when we're out, and if we needed to share for some reason, we'd be set. Plus, I'm guessing that we could come up with some entertaining games using the straws if we were hard pressed.
6. an extra pair of briefs
For the one who most-recently left diaper days behind. Just in case. BSTS. Also—if you store them rolled up tight in a sandwich bag, you've just worked in another baggie! (see #2)
7. a hefty pinch of baby wipes in a big baggie
Always handy for cleaning up – the kids' hands and faces, their cups/water bottles, the car (don't ask!). I have stashes of wipes in different rooms in the house, in the car, in my purse, and in the PP.
8. itch-eraser stick and disinfecting spray (in a baggie!)
Used innumerable times in the summer. Watch your expiration dates and replace as needed. Can't say enough good things about the spray form of the antibiotic ointment. Fantastic for treating scrapes on those places that refuse to hold a bandage.
9. allergy pills
Handy to have for those who suffer allergies when … oh, say, going to Grandma's house. >grin<
10. travel-size bottle of peroxide
I can't begin to tell you how many times I have put the "stingy stuff" on various scrapes and cuts after an afternoon on the playground. Sometimes all you need is a dab on a cotton ball. With the boys, I'm more likely to be irrigating a knee or elbow with a river of peroxide.
11. assorted sized band-aids, alcohol wipes, q-tips, sample-size ointment packs
Do I have to explain?
12. small tube of sunblock
Because I always seem to forget to goop up the kids before we leave the house.
13. penlight
I've always thought it might come in handy if we were stranded on the side of the road at night, or something like that. Usually though, I end up letting the 4-year-old play with to keep him busy. Whatever works.
14. children's pain reliever
I like the big bottle of liquid, because I can pour out the right amount for any of the kids, rather than carrying chewable in several different strengths. Again – watch your expiration dates!
Not included yet, but on the list to get for this year: a small bottle of bug repellent, and a cold pack (the kind you crush to activate).
All of these items get tucked into my nifty little clear-sided bag. Anytime we leave the house – be it a 3-hour road trip, or a run to the grocery store – the Portable Pharmacy goes in my purse. I've often joked that it might just be possible to survive in the wilderness solely on the basis of the contents of the PP!
(not that I'm planning to test that theory … ever)
linking up to We Are THAT Family for Works for Me Wednesday