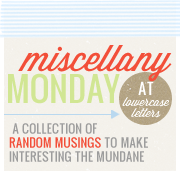 So, I'm grabbing a few minutes online after the kids are in bed, and I realize that it's Monday. So, I'm linking up to Miscellany Monday. And while I'm really, really beat (explanations forthcoming), I also realize that I have something to say about…
LOVE
Valentine's Day is almost a non-event at our house this year. We're coming off a week of at least one kid being sick every day for the last week. Some slightly sick – just enough to make them cranky and uncomfortable. Some really sick – like, I-wish-we-had-more-buckets sick.
And today, I realized that it's Valentine's Day, and I didn't have a card for my wonderful husband. In fact, I didn't even mention it till after lunch because my mind has been on the kiddos.
And he didn't care. He didn't feel neglected. Even though I really have been neglecting a lot this last week. And it hit me…
THIS IS LOVE.
Love that waits until this weekend to go out to a movie.
Love that tends to the upchucking kids in the middle of the night (because I slept right through it).
Love that hugs me when I really, really needed a hug, and cheers me up when I felt really awful.
Love that took time out of his busy work day to send me texts that made my day.
Looking forward to spending some time with you this weekend, hon! I love you!