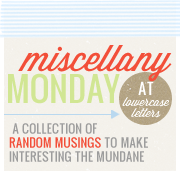 I love you, because Monday is

Maintenance Day

around here.
For at least one evening, everyone will have clean socks.
The living room will be dusted. And vacuumed.
The kitchen will look more than moderately presentable.
Today we started the

Jesse Tree Advent Devotional

,
Yes, we were supposed to start on November 29th,
and no, I don't care. We're doing it anyway.
I've been intending to do it for a couple years now,
and we always get busy with other stuff.
Tonight, I get to go to

writing class

. Yay!
(And, no, I'm not sucking up,
just in case my instructor is visiting The Home Front today!)
But, it's the last one. BOOO!
I can't believe it went by so fast.
We put up

stockings

today.
That's always a good thing!
All four boys picked out the one they wanted,
with not much fighting or pouting.
That's also a good thing.
*grin*
I haven't been blogging as much lately, because I'm
And a school schedule, to implement after the holidays.
And trying to remember the real reason for
Christmas
is not the decorations, the gifts, or the food.
Hope your Monday is going well!